---
KinderHaus offers AfterSchool programs for children ages 2 – 13. All classes are theme-based German immersion programs that foster the children's language skills and confidence. AfterSchool themes are dependent on a minimum of 8 participants. If fewer, a theme may be switched to a more suitable one.
When: Mondays through Fridays, 3:30-6:00 pm (following the KinderHaus calendar)
Where: 312 7th Street (off 5th Ave) / 466 6th Avenue (between 10th and 11th Streets)
Registration: Online Registration or via email to info@kinderhausbrooklyn.com
---
Mondays: Werkeln – Crafting & Constructing (312 7th Street)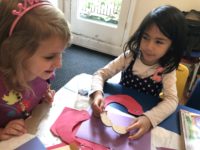 In the Werkeln AfterSchool, children enjoy a variety of group crafting activities together, as for instance when creating their own solar system model. The children create new ideas and are actively involved in projects that last over several weeks each. They demonstrate critical thinking and problem-solving skills, they gain confidence and practice emotional and social skills such as self-control and patience. Throughout their crafting processes (How do we build a kite? How does it fly?), the Werkeln children learn to approach a project from different angles to achieve the intended results. They acquire new skills and actively create something new, as for instance self-made jewelry, bird feeders, and other handicrafts. The crafting activities foster the children's fine motor skills and encourage them to improve their working with brushes, pencils, scissors, glues, and other utensils.
---
Mondays: WaldKinder – Young Forest Explorers (466 6th Ave)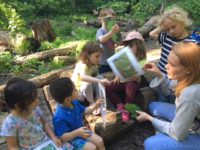 Based on the German model of Waldkindergartens, the KinderHaus WaldKinder program is distinguished by its commitment to total nature immersion, interest-led flow learning, an emergent curriculum, place-based focus, inquiry-based teaching style, and authentic play. Instead of the classroom, children will spend the afternoon primarily in a natural environment, such as Prospect Park and follow the lead of our KinderHaus teachers, who will transform the surroundings into an exciting classroom with a forest-inspired curriculum. Research has proven many benefits of this special educational approach, including a stronger immune system, better physical coordination and significant improvement in reading, writing, mathematics, and social interactions. Various research and articles have elaborated on its benefits.
---
Tuesdays: Kulinarische Abenteuer – Culinary Adventures (312 7th Street)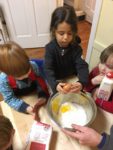 The old saying that "too many cooks spoil the broth" does not apply to our little chefs in the Cooking AfterSchool program at KinderHaus. Our culinary adventures enrich the children's experiences in many different ways, appealing to all of their senses while teaching them about healthy nutrition. Common hands-on cooking activities help support self-confidence, collaboration, problem-solving and fine motor skills. The children explore different herbs, fruits, and vegetables by smelling, feeling, and tasting them. They travel around the world experiencing culinary adventures from different parts of the world, all while expanding their German vocabulary. Together, we create a variety of dishes and enjoy the delicious taste of healthy food. By preparing and eating a meal together, the children's sense of community is encouraged as well as their appreciation of healthy food.
---
Wednesdays: Kleine Künstler – Contemporary Art (466 6th Ave)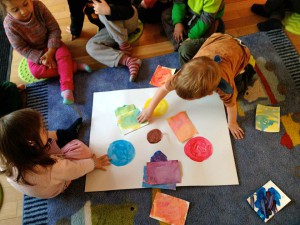 In this class, we want to explore, enjoy and question a variety of contemporary artists from all over the world and their artworks. Our goal is to recognize the differences in art styles and to encourage children to explore their own imaginative responses to paintings and sculptures. Art increases concentration, improves motor skills and eye-hand coordination, enhances the ability to complete projects and boosts self-esteem and confidence. We will achieve this by working on fun and engaging art projects, learning new techniques and improving our skills by painting on a variety of materials, including making sculptures and engaging with unconventional mediums.
---
Wednesdays: Reading & Writing, 1-hour class or whole afternoon (312 7th Street)
This class focuses on developing solid skills in German reading and writing with a specialized approach for English-German bilingual children. The students focus on improving their German reading and writing skills by practicing German phonics (sounds) and letters, merging them to words and building first full sentences. All stories and workbooks used to support early reading and writing comprehension skills through picture-matching, coloring activities, riddles and others that are a great and motivating choice for emergent readers. 
According to their proficiency level, the Reading & Writing kids will be assigned to one of two groups. The groups take a closer look at the German language, working with fun approaches like detectives to learn about rules of orthography as well as more complicated grammar structures and differences to English spelling and rules. The students are engaged in activities and discussions to help them analyze language and acquire competencies such as reading and writing comprehension techniques. In order to gain a good understanding of Germany, they get to learn about its culture and mentality through well-known German children's literature and engaging real-life stories. In both classes, the individual literacy skills of each child are observed and the progress is facilitated through a targeted approach on the level of each student. All activities are meaningful and offer many opportunities for the children to be creative writers and communicate their ideas through written language. 
---
Thursdays: Galli Theater (312 7th Street)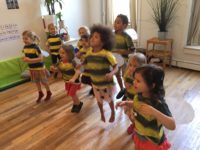 In our theater and acting workshop, children engage in a variety of activities which are designed to teach body awareness, self- expression, and respect for one another. During theater and acting games, children learn more about themselves as individuals and how to be empathetic around others. Acting out different roles teaches children to gain an alternative perspective, experience themselves in new ways, foster confidence, and a feeling of self-worth. Interactive role-playing teaches children to use problem-solving skills, actively communicate with each other and tap into their higher-order thinking skills. With the help of stories, games, and props, the children will learn to express themselves through a whole-body experience, including large muscle movements and facial expressions. 
We are thrilled to welcome Simon Geronimo and the Galli Theater program to KinderHaus for our Thursday AfterSchool program. Galli Children's Theater uses collaborative play and imagination to develop confidence, language skills, and most importantly, fun. Simon has been performing with the Galli Theater for over 15 years in Europe and North America. He has been trained in acting by Johannes Galli and is also a certified Galli Method ® Trainer.
"Children become the master of their own creativity as they invent a character and create their very own fairytale. Students will enrich their imagination through improvisational games and develop self-esteem as they take the stage. Our work will culminate in a fairytale that is based on tradition but incorporates the children's talents and ideas." – Simon Geronimo
---
Thursdays: Kleine Tüftler – Science & Nature (466 6th Ave)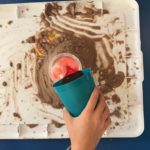 Weekly experimentation and nature guided science discoveries provide children with hands-on experiences about changes and concepts of the physical world around us. The objective is to explore, observe and document changes around us from magnetism to natural phenomena. In this program, children are encouraged to ask questions, hypothesize, conclude and replicate proofs to deepen their understanding of nature's concepts and develop a deeper appreciation and respect for the living things around us. All activities are designed to increase interest in scientific observation and research, enhancing knowledge about the physical world and enabling children's curiosity for investigation and discovery.
---
Fridays: Klingende Geschichten – Music & Stories (312 7th Street)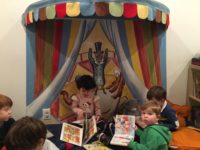 In our 'Klingende Geschichten – Music & Stories' AfterSchool program, children are exposed to a variety of children's books, which are meant to foster their curiosity for German literature and to expand their vocabulary, creativity and imagination. In this class, each book serves as an introduction to a four-week project during which the children dive deeper into the plot of the story. Through singing, improvising, role-playing and retelling the story, the children are encouraged to express themselves through body language and to tap into their own musical expression. A special focus lies on stimulating interactive participation and ongoing communication within the group while exploring the various characters from different angles.
---