We warmly welcome new families on a rolling admissions basis. Join a virtual tour and learn more about Kinderhaus.
Kinderhaus Brooklyn is committed to look at children's development in its entirety. Our holistic approach places special emphasis on supporting the child to become an independent and autonomous personality to take one's own decisions. The strong positive bond between children and our teachers is the core of our immersive and inquiry-based curriculum, focussing on children's individual strengths and development. 
All of us at Kinderhaus feel very lucky and happy to be part of the German community in New York and we are all driven to learn more about each other and each individual background and culture.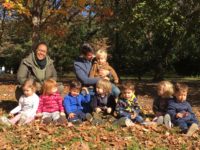 Thank you for your interest and trust. 
1. Please submit an Application Form Online
The application for admission to our programs is available online, for DaySchool, AfterSchool, and MiniCamps.  Upon completion of the online DaySchool application, and in order to have your application processed, kindly send a check or QuickPay a $50 application fee to KinderHaus Brooklyn, New Application, 398 4th Street, Brooklyn, NY, 11215.  Within a few days, families will receive a confirmation email and an offer to confirm their child's spot, if available. We encourage families to apply no later than November 20th, 2019 in order to successfully secure a spot for the 2020/2021 school year.  Some spots do become available over the course of the current school year and we encourage all families interested in joining KinderHaus immediately to please contact us.
2. Virtual Open House (optional attendance) 
All interested families are invited to join our open house events on the dates below. During the tour, Kinderhaus teachers, parents, and administrative staff will guide you through our programs and answer your questions. Please sign up to register to one of our upcoming information sessions. 
And if you can't make it to any of our tour dates, please let us know at info@kinderhausbrooklyn.com, and we will be happy to arrange for an individual tour with your family. 
3. Confirmation of a Spot
Once families have a confirmed spot, we kindly ask them to send us the completed package of Family Documents. We are regulated by New York State and regulations state that children cannot be fully confirmed, nor are they permitted to attend until the completed package has been received and processed.