http://kinderhausbrooklyn.com/wp-content/uploads/2018/07/3-IchliebdenFrühling.mp3

Kinderhaus will be open for SummerCamp from July 5th through August 26th, 2022.

We have planned a range of programs for children ages 1-13. Similar to our current in-classroom programs, all summercamp programs will follow strict precautionary rules, including small group sizes, separate program locations, and special equipment and cleaning. 

Dates & Times:  8:30am – 3:15pm with an option until 6pm. 
Each week of SummerCamp, KinderHaus offers designated weekly themes in both of our programs: the SommerKinder (ages 2 and up) and the WaldKinder (ages 3 and up – must be potty trained). The programs and themes are outlined below. All campers engage in fun and educational projects and go on excursions. The SummerCamp daily schedule revolves around group projects which have a multidisciplinary focus on arts, cooking, math and science, language and movement. 
---
SummerCamp Registration
Kindly use our online registration to secure a spot for your child. Please note that in the online registration programs are sorted by location (not by the week), and you will find a program overview in the table below.  If you are interested in the 2-4 days options kindly email info@kinderhausbrooklyn.com. 
---
WaldKinder (Outdoor Camp at Prospect Park)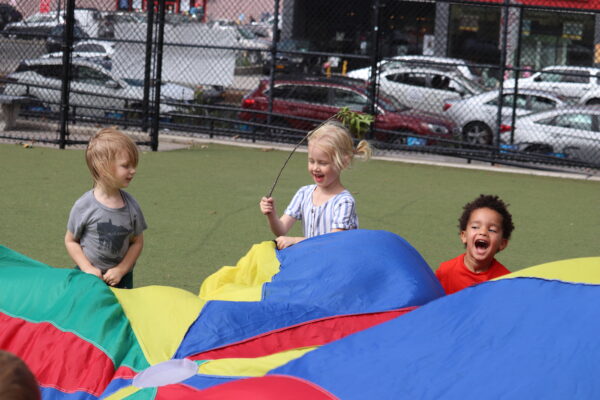 Based on the principles of the 'Forest Kindergarten', KinderHaus offers a summerlong outdoor camp at Prospect Park. Instead of the classroom, children will spend the mornings at Prospect Park and follow the lead of our experienced KinderHaus teachers, who will transform the park into a classroom. Our 'WaldKinder' will learn through hands-on experiments, sensory activities and themed units. Above all, our WaldCamp is designed to unleash the children's endless imagination and therefore, follows the KinderHaus inquiry-based philosophy, where questions naturally originate within the children and are being explored through their curiosity and investigative minds. This summer, the WaldKinder will learn about the insects, animals and plants at the park and nature's life cycles. They will also create 'land art' with all the wonderful materials this natural environment provides and engage in a variety of movement and sporting activities. Furthermore, the children will explore the park and its landmarks and even experience a treasure hunt throughout the park. While fully immersed in the German language with their teachers and peers, each child will experience an intimate and personal connection to the natural world, which will strengthen their respect for nature. A variety of group and trust binding activities will also support the children's friendships and close bonds with each other.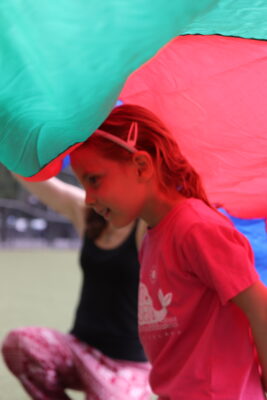 To learn more about the pedagogical focus of a 'Forest Kindergarten' and how outdoor play helps develop the children's cognitive and social development, feel free to take a look at the articles below.
http://naturalstart.org/feature-stories/flow-learning-forest-kindergarten
http://www.telegraph.co.uk/education/3357232/Waldkindergarten-the-forest-nurseries-where-children-learn-in-Natures-classroom.html 
SommerKinder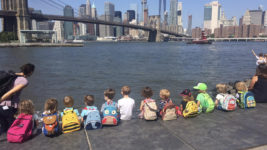 Our  'SommerKinder' programs is designed for children ages two and up and comes with thoroughly developed weekly summer camp topics. While fully immersed in the German language, children will play and learn in small and large group settings in our classrooms, as well as in our backyards and on small field trips throughout our neighborhood. In particular, our SommerKinder will experience summer with all of their senses, learn about marine life and experiment with water, liquids and solids while engaging their critical and scientific thinking skills, as well as their sensory experiences. Furthermore, our campers will be exposed to a variety of music and movement activities while singing, trying out different instruments and listening to musical sound stories ('Klanggeschichten'). The children will also enjoy a week of fairy tales, as well as a unit on 'Zahlen' (numbers), which will engage the children's memory and logical thinking in many playful ways.
---