Full day German immersion camps for children in all levels ages 2 – 8, 

Dates & Times:  

8:30am – 3:15pm with an option until 6pm from 

July 3rd to September 1st, 2017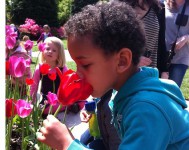 Each week of SummerCamp, KinderHaus offers designated weekly themes in both the WaldKinder program (ages 3 and up) as well as the SommerKinder program (ages 2 and up). The programs and themes are outlined below. All campers engage in fun and educational projects and go on excursions. 
The SummerCamp daily schedule revolves around group projects which have a multidisciplinary focus on arts, cooking, math and science, language and movement.
Info on registration can be found on the bottom of this page.
---
SummerCamp Themes
Week
SommerKinder Themes (Ages 2+)
WaldKinder Themes (Ages 3+)
July 3-7
Sport & Spiel - Sports & Games
Team sports, games and yoga
Das Abenteuer beginnt - Join the Adventure
Orienteering with maps and signs and using adventure stories to inspire the WaldKinder for their upcoming outdoor adventures
July 10-14
Tanzkulturen - Movement around the world
Exploring steps and rhythms from HipHop, ballet, capoeira and freestyle
Naturklänge - Natural Sounds
Building musical instruments and discovering sounds and beats with found natural elements in the park
July 17-21
Wiederverwertung - Reuse and Recycle
Reconstruction with recycled material to build and create a city skyline
Tierbeobachtung - Critters & Creatures
Spotting animals in the park, exploring their habitat and examining insects through magnifying glasses
July 24-28
Plitsch Platsch - Splish Splash
Crafting and learning about sea-life from jellyfish to sharks
Luftexperimente
Experimenting with air, wind chimes, parachute games and delving into the physicality of aminals that fly
July 31 - Aug 5
Alles schwimmt - Submarines, ships and boats
Designing and building boats and ships
Freiluftspiele - Outodoor Games
Playing team sports and games in the park
Aug 7-11
Vermessungen - High & Low
Measuring, comparing and experimenting with length, height, time and weight
Konstruktionen - Construction & Deconstruction
Collaborating on a team project to build a shelter, a bird house and other outdoor structures using available found materials
Aug 14-18
Musik und Bewegung - Music from around the world
Crafting instruments and exploring rhythm and beats
Waldmärchen - Forest Fairy Tales
Performing fairy tales in an outdoor theater production
Aug 21-25
Speisen des Sommers - Taste of Summer
Cooking and preparing summer recipes and snacks with a colorful mix of food and fruit
Landschaftskunst - Land Art
Crafting and creating abstract art with natural items based on Andy Goldsworthy's art pieces
Aug 28 - Sept 1
Mottoparty - End of Summer
Celebrating the end of summer with different party themes from pirates to circus performers
Schnitzeljagd - Goodbye Summer
Celebrating the end of summer with party picnics, scavenger hunts and a "park expert" graduation
Outdoor WaldKinder Camp ( ages 3 and up )
The cornerstone of the Forest Kindergarten approach is teaching environmental and natural science principles in the field. Its objective is to forge an intimate, deep and personal connection to the natural world.  The many positive effects of outdoor education on children's development is brought to life in the 'Waldkindergarten' weeks at KinderHaus.  Instead of the classroom, children will spend the day in Prospect Park and follow the lead of our Waldorf-trained KinderHaus teachers, who will transform the park into our classroom with forest inspired arts and crafts and learn through experiments and sensory activities and other theme related curricular activites.  Children will engage in forest related projects and games that strengthen their respect for nature and which make use of outdoor material to develop a deeper sensibility for nature as a living environment. For example, they will build their own shelter in form of a "Laubhütte" as well as benches, tables and a mud pie kitchen using materials only found in the forest.  The children's imagination will be unleashed and guided toward developing skills in all developmental domains. Specific lessons include experiments in nature, an outdoor theater performance, and building structures such as a 'Herbarium'.The children engage in workshops that follow the KinderHaus inquiry-based philosophy where problems and questions are posed before children start the investigation and exploration.   As they make their way through the different areas of the park, campers will also focus on the birds, insects and other animals which live in the park and learn about nature's life cycles. Projects will originate from questions such as: How does a solar clock work? How do ants live? Why do certain plants grow in certain places only? How do we create energy with wind and water? Furthermore, a variety of group and trust binding activities will support the children's friendships and close bond with each other.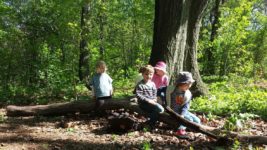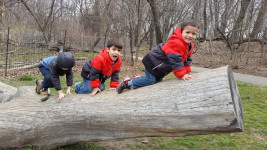 To learn more about the pedagogical focus of a Forest Classroom, please feel free to take a look at the articles for how outdoor play helps develop children's cognitive and social development.
SommerKinder Camp ( ages 2 and up )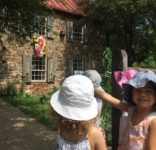 The  'SommerKinder' program is filled with daily hands-on exploration with a changing weekly focus indoors and outdoors. The weekly themes will guide children's daily sensory, creative and problem-solving activities relating them to knowledge of water science, building and constructions, arts and music and movement. 
The children will experiment with building paper boats and dams, think critically about ways to use recycable materials and get messy while enjoying art projects and gardening with their hands and feet. We are looking forward to reenacting and playing a variety of our favorite fairy tale characters, using language, gestures and singing voices to bring a story to life. In order to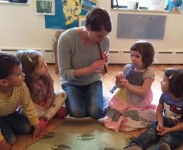 nurture children's love for music, movement, dance, stories and fairy tales, we will express imagination and creativity during music or theater performances, creating role plays and crafting musical instruments. 
The SommerKinder will try out various roles, using their body language, voice and dancing skills. The interpretation of fairy tales using different musical instruments will help identify and express their own emotions and recreate the atmosphere.  It will be exciting to listen to different stories, to play, to sing, to move and dance, and play an instrument.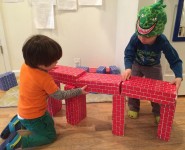 As natural architects and builders, children will enjoy a marvelous creative experience working with a variety of building material indoors and outdoors. We will engage in activities such as large sculpture work with clay, designing landscapes in boxes and building a city skyline with recycable materials. Our KinderArchitects will experience all aspects of the process, from designing to sketching to building as a collaborative group project.
The popular water science themes engage children in problem-solving activities relating to water in a global sense. SommerKinder experiment with building paper boats and dams, think critically about ways to save water and learn about global water resources and usage. In a combination of arts and science activities, children will use a variety of techniques to paint and create pictures with water color, mix paint and enjoy the sensory experience of painting with their hands and feet.
---
SummerCamp Registration
To register, kindly fill in the online application. SummerCamp will take place at our 312 7th Street and 466 6th Avenue locations, in Park Slope, Brooklyn.
| | |
| --- | --- |
| Camp Hours: | 8:30 AM - 3:15 PM and until 6:00 PM with AfterCare (Early drop off available at 8 am for $7/day) |
| Camp Day: | 8:30 AM - 3:15 PM, $100/day, or $475/week |
| Camp Day with AfterCare: | 8:30 AM - 6:00 PM, $125/day, or $600/week |
Sibling discounts of 5 % off of the tuition.
Space is Limited; after your online registration, please send the appropriate payment to KinderHaus SummerCamp at 398 4th Street, Brooklyn NY 11215.  Please write SummerCamp, your child or children's name(s), and the year in the memo field and include the required Family Document Package (DOH) if we do not already have it on file. Partial week sign up is available.