KinderHaus is excited to announce a curriculum for our youngest children, ages 1 and 2 years old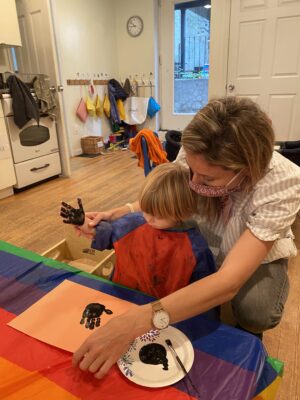 At the heart of our philosophy is the belief that children learn best by social interaction. We provide a developmentally-appropriate curriculum which fosters the children's natural curiosity and is targeted towards our youngest KinderHaus members' specific needs.  
The brand new KinderHaus Krippe curriculum is created for our littlest KinderHaus children who will enjoy playing and learning together in a small group environment, with especially trained teachers who focus on and are responsive to the individual personalities, learning styles, and formative experiences. Children will spend their days with communal play, singing, art and movement. The developmentally-appropriate approach includes gentle phasing into the school environment and a close cooperation between teachers and families.
This program is for parents who seek a high-quality, family-oriented German Immersion program for children from 1 year old. 

'Startklar' from the beginning
Infants and young toddlers benefit greatly from playing and learning in a small group setting, where the individual child is age – appropriately engaged in an environment that fosters the  development of their senses, movement and body awareness. The children's growing need for independence is gently encouraged during the day and will help grow the children's self-esteem and self-worth. Through careful observation and facilitation, the KinderHaus teachers guide children in reaching developmental milestones which builds a strong foundation for life-long learning.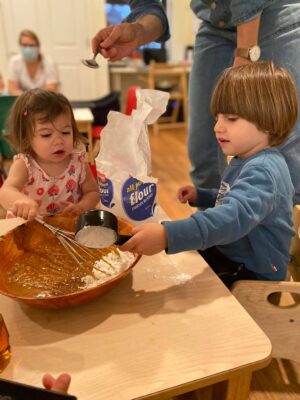 Socialization
The positive experience of a group environment encourages children to build lasting friendships and close relationships to role models.
Playing is Learning
The cognitive development of young children is supported during mindful play situations with opportunities to experiment with a variety of scientific phenomena such as cause & effect or object permanence.
Language
Giving children a head start in becoming truly bilingual is achieved through daily language activities, including story-telling, singing, rhymes and picture books.
Movement
Allowing a safe space for young children to move and explore their physical strengths indoors and outdoors is a vital aspect of the KinderHaus teaching approach, which helps children to grow up healthy and strong.
8:30 - 9:30 AM
Flexible Drop Off Period, Arrival at Kinderhaus and Free Choice Movement and Play
Offene Bringzeit, Ankommen im Kinderhaus mit Spiel- und Bewegungsangeboten
9.30 -10.00 AM
Snack
10.00-10.20 AM
Circle Activities (Music, Story time)
Gemeinschaftszeit (Musik, Geschichtenzeit)

10.20- 11.15 AM
Small Group activities (outdoor play, art, movement)
Spiel – und Lernangebote (Gartenzeit, Kunst, Bewegung)
11.15- 11.30 AM
Preparation for Lunch, Bathroom and Clean Up
Vorbereitung fuer das Mittagessen, Badezimmerzeit und Aufraeumen
11.30- 12.15 PM
Lunch
Mittagessen
12.15- 14.15 PM
Bathroom, Story time, Nap and Quiet time
Badezimmerzeit, Geschichtenzeit, Mittagsschlaf und Ruhezeit
14.15- 15.00 PM
Waking –up, Movement, Art/Sensory Table Activities
Aufwachen, Bewegung, Kunst, Tast- und Wahrnehmungsspiele
15.00-15.15 PM
Goodbye Circle
Gemeinsames Verabschieden