At KinderHaus, we love to engage the entire family in special events and celebrations throughout the school year.  A few of our events include the Art Exhibition in the spring, the Laternenlauf to Prospect Park in November, Nikolaus in December, Fasching in Spring and our Graduation Ceremonies in June.
We invite you to join our mailing list to hear more about upcoming events and programs. 
---
Annual Staff Development Day May 2nd, 2022
During our annual KinderHaus Staff Development Day we were lucky enough to be able to pre-screen the touching movie #ChasingChildhood which got us as educators and parents ourselves discussing and brainstorming along the very important questions such as 'How do we define a "good" childhood?', 'What does it mean for a child to be successful?', 'What role should schools play in protecting students' mental health?', 'What is the value of free play and free time?', 'What childhood experiences do we feel best prepared us for life as an adult?'.
Invaluable discussions arose from #ChasingChildhood, a must watch for all parents and educators, especially in the US.
Here is a little sneak peek and please be sure to download the movie and become part of the movement.
In today's world of structure, stranger danger, and helicopter parenting, free play and independence have virtually disappeared from childhood, giving way to unprecedented anxiety and depression (now compounded by two years of the COVID-19 pandemic). In CHASING CHILDHOOD, psychologists, activists, and leaders of the "free play" movement fight to bring back the untold benefits of a less curated childhood.
---
KinderHaus Art Exhibition
The children at KinderHaus welcome spring at the annual Art Exhibition, proudly showing the products of their creative work to friends and family.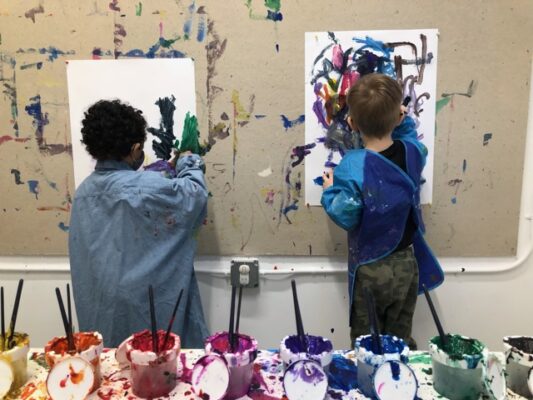 During their DaySchool classes, the KinderHaus children turn their classroom into a veritable art studio, where everyday favorite items are engaged creatively to explore different artistic mediums. The children work collaboratively to create unique and impressive pieces that are then put on display as we open our classroom galleries to parents, friends, and family members.  This time opens up discussion in the classroom about finding inspiration and about famous artists from history while building rich vocabulary which can be used to describe the art.  This event encourages every child to call themselves an artist as they create and share something purely from their own vivid imaginations. The day when the art is hung on the wall and the community comes to admire the work tells the little artists, "You have created something important, and we are here to celebrate it."
---
KinderHaus Family Meet-Ups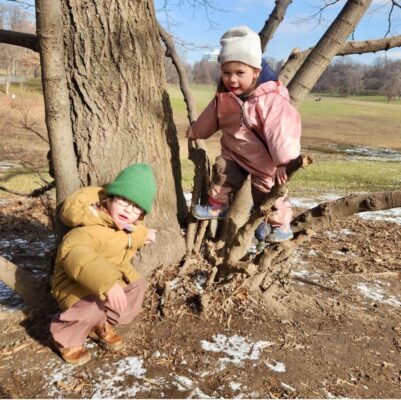 For a chance to meet and mingle with other KinderHaus parents and staff, we enjoy regular Family Meet-Ups, as for instance in Prospect Park in the summer or for a 'Feierabendbier' at the Beer Hall, where we gather ideas and enjoy organizing communal events for the whole family.
---
Professional Development – Teacher Workshop
KinderHaus values 'Lifelong Learning' as an important aspect of our teaching, where the KinderHaus Teaching Team regularly plans and executes workshops and professional development training, in order to learn from each other, broaden perspectives and stay up-to date on teaching and the latest research in the field of pedagogy and early childhood.  As an important part of the workshops, the teachers reflect on classroom practices, evaluate new material and methods and create new ways to engage the children in meaningful and effective learning situations. 
---
Teacher Field Trips: World of Learning 'Reggio Emilio' Exhibition
The city offers many wonderful opportunities for pedagogues to improve their teaching methods and approaches.  The KinderHaus teachers enjoy visiting hands-on exhibitions and find it inspiring to learn about new ways to engage the children in the classroom.
World of Learning 'Reggio Emilio' Exhibition 
---
Little Scientist Project
KinderHaus was honored to welcome Nina Gnaedig, a German scientist with a PhD in biology/virology to our classrooms for the Little Scientists Project.  Currently conducting important Malaria research at Columbia University, Dr. Gnaedig helped our students conduct their own experiments to deepen their understanding of germs, hygiene, and bacteria.  Converting our classrooms into a research laboratory, students were able to connect their thematic discussions of seasonal changes and the importance of washing your hands to the facilitated observation of the growth of their own harmless bacteria in petri dishes.  This project taught the children not only about how their bodies and environment interact, but also about the scientific process and the steps necessary for a successful experiment.
---
Laternenlauf Procession & Celebration
As fall changes slowly into winter, its a time for the German community to gather and celebrate the warmth that we share with our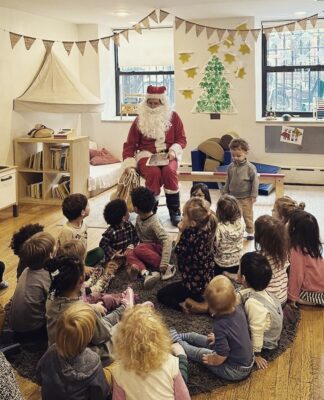 family and with our community.  Every November, KinderHaus classes make lanterns, discuss the spirit of charity and giving, and learn the traditional Laterne songs and stories.  This rich German tradition includes the celebration of St. Martin, who stopped in the snow to share his cloak with a beggar.  KinderHaus families are subsequently welcome to gather with the German community of New York to participate in the Lantern Walk, organized by Citykinder, through Prospect Park.  In the spirit of charity, the Laternenlauf is a fundraiser.  The Lantern Walk is one of KinderHaus most beloved traditions, and we look forward to it every year.
---
German Children's Author Reading
Coming especially to KinderHaus from Dusseldorf, children's book author, Wiebke Sohst, spoke to the children about her book, Tingas Reise durch Feuerland.  In her early twenties, Ms Sohst followed her passion for traveling in far away places.  She traveled through the Sahara and the Amazon jungle, she crossed the Arctic Circle in Canada and the Magellan Strait in Chile, visited the landscapes of Patagonia and Fireland, and above all, the wonderful animals who live there, inspired her to write this book.  On her visit to KinderHaus, Ms. Sohst shared her story with us and opened up a vivid world of travel and adventure for the children.

---
A No-Toys Education
Read about our no-toy experiment in an article from The New York Torch by Charlotte Stafford.