https://kinderhausbrooklyn.com/wp-content/uploads/2018/07/3-IchliebdenFrühling.mp3

Kinderhaus will be open for SummerCamp from July 3rd through August 25th, 2023.

We have planned a range of programs for children ages 1-13. Similar to our current in-classroom programs, all summercamp programs will follow strict precautionary rules, including small group sizes, separate program locations, and special equipment and cleaning. 

Dates & Times:  8:30am – 3:15pm with an option until 6pm. 
Each week of SummerCamp, KinderHaus offers designated weekly themes in both of our programs: the SommerKinder (ages 2 and up) and the WaldKinder (ages 3 and up – must be potty trained). The programs and themes are outlined below. All campers engage in fun and educational projects and go on excursions. The SummerCamp daily schedule revolves around group projects which have a multidisciplinary focus on arts, cooking, math and science, language and movement. 
---
SummerCamp Registration
Kindly use our online registration to secure a spot for your child. Please note that in the online registration programs are sorted by location (not by the week), and you will find a program overview in the table below.  If you are interested in the 2-4 days options kindly email [email protected]. 
---
WaldKinder (Outdoor Camp at Prospect Park)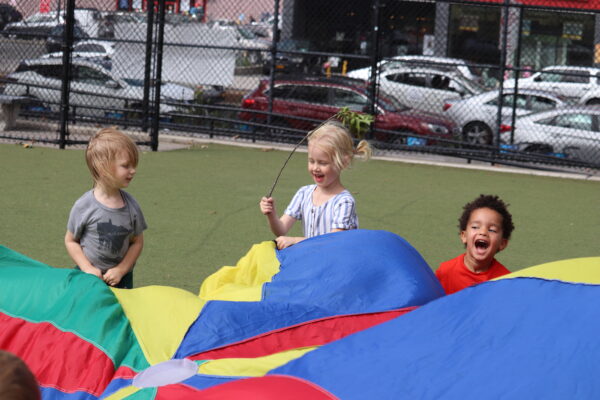 Based on the principles of the 'Forest Kindergarten', KinderHaus offers a summerlong outdoor camp at Prospect Park. Instead of the classroom, children will spend the mornings at Prospect Park and follow the lead of our experienced KinderHaus teachers, who will transform the park into a classroom. Our 'WaldKinder' will learn through hands-on experiments, sensory activities and themed units. Above all, our WaldCamp is designed to unleash the children's endless imagination and therefore, follows the KinderHaus inquiry-based philosophy, where questions naturally originate within the children and are being explored through their curiosity and investigative minds. This summer, the WaldKinder will learn about the insects, animals and plants at the park and nature's life cycles. They will also create 'land art' with all the wonderful materials this natural environment provides and engage in a variety of movement and sporting activities. Furthermore, the children will explore the park and its landmarks and even experience a treasure hunt throughout the park. While fully immersed in the German language with their teachers and peers, each child will experience an intimate and personal connection to the natural world, which will strengthen their respect for nature. A variety of group and trust binding activities will also support the children's friendships and close bonds with each other.

To learn more about the pedagogical focus of a 'Forest Kindergarten' and how outdoor play helps develop the children's cognitive and social development, feel free to take a look at the articles below.
http://naturalstart.org/feature-stories/flow-learning-forest-kindergarten
http://www.telegraph.co.uk/education/3357232/Waldkindergarten-the-forest-nurseries-where-children-learn-in-Natures-classroom.html
Week 1
Land art
To start off the summer we will get creative with nature's goods and materials. Crafting, painting and creating art with sticks and stones and other beautiful gifts Prospect Park has to offer, the children will embrace their fine and gross motor skills by crafting and developing nature art. We will create projects such as nature mandalas and nature weaving craft. Land art for kids combines playing and creating art in a natural environment using leaves, rocks, sticks, and other nature items as well as light and water which will create an awareness of the environment and treasured landscapes.
Week 2
Olympia
Sack race, tag o' war, ball games, egg race, long jump and parachute games, we will explore new 'olympic' games each day. Children benefit from learning about teamwork, fairness, social interaction, as well as their own physical capacities, all while having lots of fun and will be able to create their own games by the end of the week!
Week 3
Jungel Prospect Park – Wildlife (Tiere im Prospekt Park)
Children's natural drive to inquire boosted by spending time in a natural habitat like Prospect Park sparks their curiosity. Turning into little jungle explorers, we will discover the rich wildlife the Prospect Park has to offer. Spying on birds, finding turtles, going on a frog and fish watch, detecting pollinators hotspots, and chasing squirrels and chipmunks will create a rich basis for our wildlife journal which each jungle explorer will create.  A field trip to the Prospect Park Zoo will conclude this enriching week of exploration.
Week 4
Jungel Prospect Park – Plants
Continuing the Prospect Park Jungle exploration, our little jungle explorers continue working on their journals discovering Prospect Park's rich flora with all their senses.  203 species of trees can be found in the park, including numerous varieties of native cherries, maples and oaks, as well as less common species included the Southern magnolia, and the bald cypress.  A field trip to the Botanical Garden lead us to winding intimate paths through a meadow of tall native grasses and flowers that attract butterflies, hummingbirds, and bees. Raised boardwalks and platforms allow us to get up close to leafy tree canopies in the woodland, and a circuit of split logs and boulders takes visitors throw a rich and diverse marsh habitat.
Week 5
Water Splash
This week our WaldCampers will experience the element water as a life force contemplating issues such as: Where does water come from?, What makes rain?, What lives in water?, Why do we need water to survive?, Is there water in our own bodies, and of course What makes mud?  Discovering where water is found at Prospect Park, how water changes, and how water moves trough a cycle, learning about the physics principles such as the effects of gravity (water runs downhill) and change in state (solid, liquid, gas) our WaldCampers minds will be stimulated complimented with lots of water play to encourage the physical development through pouring, squeezing, stirring, painting, and squirting, and splashing.  Strenghthening their gross motor skills by running, jumping, and hopping through sprinklers and expanding their sensory experiences as they put their hands in different textures (gritty, squishy, and slimy) and different temperatures (warm, cool, cold), this fun learning experience includes water discoveries throughout Prospect Park, water experiments, water artwork, story telling about far away oceans, and of course, a lot of water play. Prepare to get wet! 
Week 6
Beach Kids
This week our WaldCampers turn into Beach Kids as we spend a week of sun and fun at the beach. Combining fun and education we will explore the beach by building sandcastles, collecting seashells and creating jewelry with it, creating a collage with different materials we find like sand, shells, and rocks, as well as playing beachy team games. The children will find "Eine Flaschenpost" which is the start of a treasure hunt… get ready!
Week 7 & 8
Yoga im Park
Children derive enormous benefits from yoga. Physically, it enhances their flexibility, strength, coordination, and body awareness. In addition, their concentration and sense of calmness and relaxation improves, and they learn skills to decrease anxiety and cope with their emotional reactions. Yoga brings that marvelous inner light that all children have to the surface, and is a great tool that can serve them for years in the future.
Through Yoga in the Park WaldCampers will experience the effectiveness of simple Yoga poses during this 2 week awareness camp.  Repeated daily, our KinderCampers will be able to feel the positive, calming and grounding effect of Yoga, will be able to learn and grow from this experience, and take the simple routine with them beyond the camp.  Balancing the cognitive and physical input of the story and the Yoga routine our KinderCampers are invited to let their creativity flow and give their emotions room with special art projects, creating dream catchers and kindness stones.
Our  'SommerKinder' programs is designed for children ages two and up and comes with thoroughly developed weekly summer camp topics. While fully immersed in the German language, children will play and learn in small and large group settings in our classrooms, as well as in our backyards and on small field trips throughout our neighborhood. In particular, our SommerKinder will experience summer with all of their senses, learn about marine life and experiment with water, liquids and solids while engaging their critical and scientific thinking skills, as well as their sensory experiences. Furthermore, our campers will be exposed to a variety of music and movement activities while singing, trying out different instruments and listening to musical sound stories ('Klanggeschichten'). The children will also enjoy a week of fairy tales, as well as a unit on 'Zahlen' (numbers), which will engage the children's memory and logical thinking in many playful ways.
Week 1
Welcome Summer!
Finally, summer is here!  We start the celebration of the best season of the year by turning into little nature explorers lead by the question 'How does our Nature change during this time of the year?'.  We're taking out our magnifying glasses and discover the vibrant colors of the blooming flowers and growing plants, have a closer look at the structure of the leaves and petals and learn how to use nature to craft, create, and paint with petals, leaves, sticks, and stems. Come along on this adventure that stimulates all senses.
Week 2
Olympia
Get ready for fun outdoors!  Through groups sports like soccer and basketball and athletic challenges such as hopping from log to log, jumping over topes and balancing on wood balancing beams our little olympic talents will be able to try their own limits by testing their balance, strength, patience, and team spirit. This week will give each child a lot of ambition to finish off the week by celebrating with a graduation party receiving certifications and a medal for each of our little olympians.
Week 3
Water Splash
Water is the element of summer.  Our little water experts will experience the element water in various ways including experimenting with the magic of science by painting with water and salt, mixing different substances with water, experiencing what floats and what sinks, and of course lots of water splashing in our open backyard.  To finish the week our water experts will go on a field trip to one of the Brooklyn water parks.
Week 4
Tutti Frutti
Join us for fruit and color fun! We will create a laboratory for learning about colors and fruits. We will be experimenting and exploring how to make our own colors. Inspired by Dale Chihuly's artwork techniques, we will be doing large scale movements, involving the whole body, paving the way for a foundation for creative thinking and problem solving skills. Surprise bags with fruits inside will foster tactile perception and differences between textures. We will play the group game Obstsalat for memorizing and recalling knowledge. A trip to the farmers market will show us a variety of seasonal fruits. And of course we will prepare many yummy snacks including Fruchtsalat and Fruchteis.
Week 5
Culinary Adventure Week
The old saying that "too many cooks spoil the broth" does not apply to our little chefs during this week of culinary adventures. Going on a journey to the land of food will enrich the children's experiences in many different ways, appealing to all of their senses while teaching them about healthy nutrition. Common hands on cooking activities help support self-confidence, collaboration, problem-solving and fine motor skills. The children explore different herbs, fruits and vegetables by smelling, feeling, and tasting them. They travel around the world experiencing culinary adventures from different parts of the world, all while expanding their German vocabulary. Together, we create a variety dishes and enjoy the delicious taste of healthy food. By preparing and eating a meal together, the children's sense of community is encouraged as well as their appreciation of healthy food. 
Week 6
Oceanography
The sea and its creatures are mysterious and exciting. In this SummerCamp week, we become experts in oceanography by learning about the different seas and their different marine life, different types of fish, whales and other mammals. We will listen to whale and dolphin sounds, and engage in guessing games on the subject, recreate and touch different textures like fish scale, and turtle shell, and take a closer look at sharks and their phenomenal teeth.
Week 7
Jungle Gym
Transforming our SummerCamp location into one big jungle gym, where we will fly like a parrot, climb like monkeys, jump like frogs and hop like kangaroos.  Refining their gross anf fine motor skills ourmlittle jungle explorers will learn all about the jungle animals and their habitat.  Join us on this exciting Safari through KinderHaus!
Week 8
Story Time und Bücher – Summer Calm Down
Reading books and delving into stories has always been an integral part of the KinderHaus curriculum and has now its own SummerCamp week. We welcome each child to bring their favorite story book, which we will read, discuss and re-enact the story line developing, stimulating, and nourishing the children's imagination, expanding their vocabulary, creating sensory awareness, and helping the children to see, hear, taste, feel, and smell on a new imagined level. Story books help children to find out more about themselves, who they are, and the world around them. And along the way through storytelling, new language skills are developed and vocabulary is profoundly expanded all in the German immersion language.
---